Happy Villages Student Gallery
"I cannot tell you the satisfaction I have gotten - nor the recognition from quilters and friends. I am not an artist, so I can never draw or paint a village - and even if I had set out to make one from fabric in a traditional quilting pattern, I don't think it would meet my own standard for a good "picture". But YOUR method has opened a whole new world (a village!) for me!" Cheryl McLaughlin, Pittsburgh, PA
Happy Addis

Jan Antranikian, GA

Jan paid homage to her travels in Ethiopia, which includes photos and a shawl purchased in Addis Ababa as borders

Dream Village

Joyce Triezenberg, Albuquerque, NM

Halloween Happy Village

Karen Gornall, Georgia

Walled Village

Carol Rubin, Baltimore, MD

Witch's Delivery Service in Coastal Village

Sanae Yamanouchi, Jackson, MI

Positano: The Amalfi Coast

"I will admit that I wasn't sure if I could make a Happy Village without the benefit of a workshop (I'm such a visual hands-on learner). But much to my sheer delight, this Happy Village was SO much fun to create because of the excellent directions and step by step illustrations in your book. Thank you!

Donita Whelan, Manlius, NY

117 Steps in Vernazza

Karen Scharf, Oklahoma

Outer Space Village

"And you're right. They are like potato chips ... you can't just make one" Nita Goldman, Delray Beach, FL

City of Dreams

Jean Shealy, Peachtree City, GA

Azure Village by Mary Harned, Wilmington, NC

Happy Village by Barbara Stanbro, Hillsboro, OR

"I bought your book long ago and only just tried making it for the first time. Great book, excellent instructions. Thank you." Nov 2016
Neighborhood Quilt

by Jana Kennedy, Brentwood, TN

Happy Villages Workshop at

Vermont Quilt Festival 2015

Grace Holland, IN with her Halloweenville

Berit Hokanson, CA taught a Happy Village workshop in Sweden with great results and happy students

There Goes the Neighborhood by Carrie Romano of Dillsburg, PA

Cinque Terre at Night by Pam Zeck, Venice, FL

A Pittsburgh Hillside Village by Cheryl McLaughlin, Pittsburgh, PA
A Hillside in Israel by Cheryl McLaughlin, Pittsburgh, PA

A very Merry Christmas Village!!! by Paula Klingerman, Southington, CT Apple Valley Quilt Guild

Four creative Villages by Lene Alve, Finland. Handstitched in contrasting threads. Instead of using a layer of tulle (fine netting), Lene used fray check to secure the edges. Beautiful results!

"Summer in Salonika" by Nancy Reck of Mill Valley, CA

"Lakeside Cottages" by Diane Beaman, Laconia, NH

Two wonderful Alaskan villages by Linda Creech
Dark Village by Margie Katz, Mt. Holly, NJ
Sue's Happy Village with her Little Roadie doll
Mary Oros' oriental village
"Hersheyville" and "Under the Yum Yum Tree" by Lucille Makrin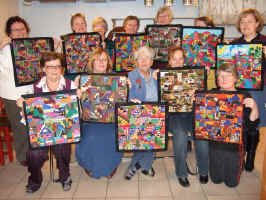 Malmo, Sweden
Lisbeth Bergstrom and her friends taught each other how to make these wonderful Happy Villages from my book. Click on the following link and go to "husquiltskurs" to check out the fun they had making their villages! www.oresundsquiltarna.se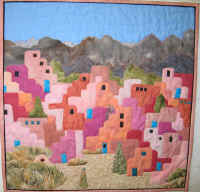 Taos Village by Margaret Freedman, Landrum, SC
"I think you should put a warning on your book that "Happy Villages" are highly addictive and may result in even less housework being done!"
Claire - age 13, and Cecilia - age 11, made the great Happy Villages above. The bridges are their very own creations! Their great aunt Mary and aunt Janine had taken the workshop during the day, and by that evening had shared the secrets of fabric collage with the girls.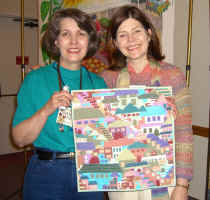 Sharon Fry, Sonoma, CA presenting her first Happy Village quilt made as a house warming gift to her sister Suzanne.
"... to let you know how much I enjoyed the Happy Villages technique. Now that I have done these first two [see above] I am definitely hooked and going to use this technique to interpret some photographs I have taken over time." Dominga, CA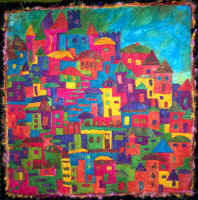 Maya Telford, British Columbia www.dyelicious.com used her hand-dyed fabrics to create her first Happy Village.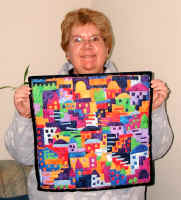 Sharon Rendfrey, NJ: "I finished my Happy Village ... can't wait to start my next one"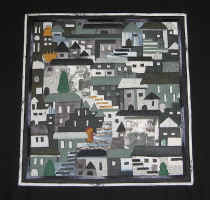 Marjorie from Undercover Quilters, PA used favorite Black and White photographs from Germany in her first village.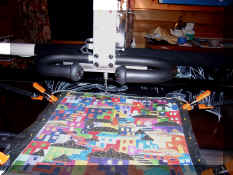 Judy Anderson's village in her longarm ready for quilting
Sisters, Grace and Beth in New Zealand made amazing Happy Villages and mother Debby added the final quilting touches. WOW!
Teacher, Gaynor Lincoln taught her 9 & 10 year old students at the Westbrook Primary School, in Rotorua, New Zealand how to create Happy Villages using colored construction paper and crayons. Such talent and creativity!!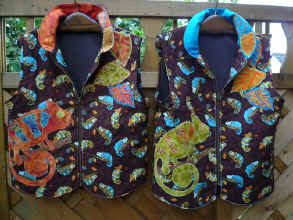 It's a chameleon and not a village, however, these happy vests were inspired from my "Comma Chameleons" pattern, which uses the same approach to fabric collage. In these adorable vests, Gabi Girndt-Sharp from Germany, matched my chameleons with the perfect co-ordinating fabric!