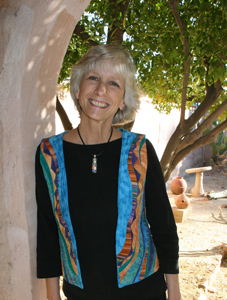 Quilted Waves Vest
Workshop with Karen Eckmeier
It's all about the waves! Get into the flow with Karen's free-form topstitched curves and angles to create this great open front vest. The secret is a lightweight sweatshirt pattern base for simple assembly. The sweatshirt provides just the right amount of loft for a "quilted-look" after the stitching and the smooth side becomes an easy matching lining. You choose the length to fit your style.
HOMEWORK – PRE-CLASS ASSIGNMENT
Buy a lightweight (7-8 ounces) crewneck sweatshirt in your size to match the colors of your vest fabrics. (http://www.jiffyshirts.com is a great source of low priced sweatshirts in a wide array of colors. Look under Adult/Unisex sizes for the best selection of colors and prices. $10 or less is the right amount to spend)
Cut the bottom cuff, sleeves and neck band off the sweatshirt. Refer to the directions in my Wearable Waves book on page 68 AND/OR watch my video on Karen Eckmeier's YouTube Channel to prepare for the workshop.
Cut front pattern pieces according to the directions on page 68 or watch the tutorial on my YouTube video.
Cut TWO strips – 4" x selvage width from each of the SIX fabrics
Cut the fabric for the vest back (about ½" -1" larger than the pattern piece)
Supplies
6 fabrics (multi-color + 5 coordinating colors) See chart on page 2 for yardage
Crewneck sweatshirt for pattern pieces (select a color to match the 6 fabrics, this will be the vest lining)
One thread color or variegated thread to match color palette (it will be used for topstitching, piecing and quilting)
Safety pins for basting
Tailor's chalk or marking pencil
Long pins
Large and small scissors
Flexible curve ruler (optional….I will bring mine to the workshop)
Rotary cutter and long ruler
Large rotary cutting mat (large enough to place one of your sweatshirt pattern pieces on)
Small rotary cutting mat (approx. 6"x 8" to slide between layers to make pinning easier as we make the waves)
Seam ripper (just in case….)
Sewing machine with the following presser feet:

straight stitching foot
¼" seam foot
zig zag foot (to overcast the edges instead of using a serger)
Walking foot for machine quilting is a MUST
Free motion quilting foot (optional)

Iron and ironing board (or padded ironing surface)
Sharp #10 needle (or your choice of a hand sewing needle)
Buttons – optional
Wearable Waves book, by Karen Eckmeier ($24.00)
Select 6 Fabrics
Chose a multi-color print and 5 coordinating colors to match. One of the 6 fabrics will be your "Primary Color/Fabric". It will be the dominant color/fabric* of your vest, by being featured in the "faux" lapels, the entire back of the vest and the hidden binding.
* it's possible that the multi-color print may also be your "Primary Color/Fabric." To view this option and be inspired by other color combinations, please visit Karen's YouTube Chanel to watch the instructional video.
Yardage Chart

ADULT

VEST

S-M

½ yard each of 5 fabrics and
1 yard of the Primary Color/Fabric

L

¾ yard each of 5 fabrics and
1½ yard of the Primary Color/Fabric

XL

¾ yard each of 5 fabrics and
1½ yard of the Primary Color/Fabric

2XL-3XL

1½ yard each of 5 fabrics and
2 yards of the Primary Color/Fabric